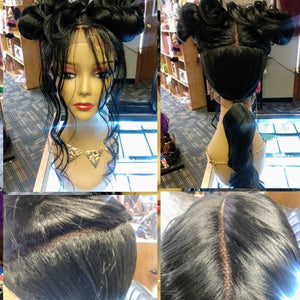 If you are looking for a new hairstyle or a gift for someone special, you might want to check out OptimismIC Wigs and Gifts, a shop that sells human hair wigs, synthetic wigs, hair extensions, beauty supplies, and more in West Saint Paul, Minnesota. In this blog post, I will tell you more about this shop and why you should visit it.

OptimismIC Wigs and Gifts is a family-owned business that has been serving the community for seven years. The owner, Tacandrya P., is passionate about helping people find their perfect hair and wig gift. She says: "I love seeing the smiles on people's faces when they try on a wig and feel beautiful and confident. I also enjoy helping people who are going through hair loss due to medical reasons or other causes. Wigs can make a big difference in their self-esteem and well-being."

The shop offers a wide range of products for different needs and preferences. You can find human hair wigs that are made from high-quality natural hair and look very realistic. You can also find synthetic wigs that are durable, affordable, and easy to style. You can choose from various styles, colors, lengths, and textures, such as lace front wigs, 360 frontal wigs, 4x4 wigs, blonde ombre wigs, hd lace front wigs, 613 lace front wigs, natural wavy lace frontal wig units, monofilament wigs, and more.

If you want to add some volume or length to your own hair, you can also shop for hair extensions or braiding hair at OptimismIC Wigs and Gifts. The shop has different types of hair extensions, such as clip-in extensions, tape-in extensions, sew-in extensions, micro-ring extensions, and more. You can also find braiding hair in various colors and textures to create beautiful braids or twists.

Besides wigs and hair extensions, OptimismIC Wigs and Gifts also sells beauty supplies, such as shampoo, conditioner, styling products, brushes, combs, clips, pins, headbands, scarves, hats, and more. You can also find other gifts for yourself or your loved ones, such as jewelry, purses, fragrances, spa products, wellness products, clothing, toys, baby shower gifts, birthday gifts, and special occasion gifts.

OptimismIC Wigs and Gifts is located at 1201 S Robert Street Suite 8b in Signal Hills Shopping Center in West Saint Paul. The shop is open from Tuesday to Saturday from 2:30 PM to 6:00 PM. You can also visit their website at www.optimismicwigsandgiftshop.com or follow them on Facebook at https://www.facebook.com/OptimismICGiftshop/ to see their latest products and promotions.

If you are looking for a new look or a thoughtful gift for someone special, you should definitely visit OptimismIC Wigs and Gifts. You will be amazed by their selection of products and their friendly service. Whether you want to change your hairstyle or treat yourself to something nice, you will find what you need at OptimismIC Wigs and Gifts.
https://www.google.com/search?hl=en&q=OptimismIC+Wigs+and+Gifts&ludocid=13587587689868780040&lsig=AB86z5Xn12wDzpX6u7emRQE-tYLd
https://www.bing.com/search?mkt=en-US&pq=OptimismIC+Wigs+and+Gifts+in+Saint+Paul&q=OptimismIC+Wigs+and+Gifts+in+Saint+Paul
https://www.yelp.com/biz/optimismic-wigs-and-gifts-west-saint-paul
https://www.youtube.com/channel/UCpJcDIRFqkkofEpc07GQqbA