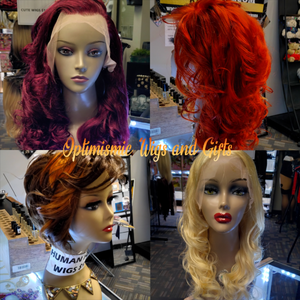 Are you in search of something cute and delightful? Look no further than Optimismic Wigs and Gifts, located at 1201 S Robert West St Paul. This hidden gem offers a unique collection of wigs and gifts that will surely captivate your heart. Step into a world of beauty and elegance as you explore the exquisite offerings at Optimismic.
What makes Optimismic Wigs and Gifts so special?
At Optimismic, every item is carefully curated to provide you with the utmost satisfaction. Their collection of wigs is unparalleled, offering a wide range of styles, colors, and lengths to suit your individual taste. Whether you're looking for a chic bob, glamorous curls, or a sleek updo, Optimismic has the perfect wig to enhance your natural beauty.
But Optimismic is not just about wigs. They also have a delightful selection of gifts that will bring joy to your loved ones. From charming trinkets to luxurious accessories, each item is handpicked to ensure it exudes elegance and sophistication.
Unveiling the allure of Optimismic
When you step into Optimismic, you'll be greeted by an atmosphere of refinement and exclusivity. The store's interior is tastefully decorated, creating a serene ambiance that allows you to fully immerse yourself in the world of beauty and style. The knowledgeable staff at Optimismic are passionate about their products and will provide you with personalized recommendations to help you find the perfect wig or gift.
Optimismic is not just a store; it's an experience. The attention to detail and commitment to quality sets them apart from the rest. Each wig is crafted with precision and care, using the finest materials to ensure a natural and comfortable fit. The gifts, on the other hand, are meticulously chosen to reflect the latest trends and timeless elegance.
Embrace the elegance of Optimismic
When you visit Optimismic, you're not just purchasing a wig or a gift – you're indulging in a luxurious experience. The sophisticated atmosphere, coupled with the exclusive selection, creates a sense of indulgence that is truly unparalleled. Every visit to Optimismic is an opportunity to embrace your inner elegance and elevate your style.
So, if you're in pursuit of something cute and charming, make your way to Optimismic Wigs and Gifts at 1201 S Robert West St Paul. Discover a world of beauty, sophistication, and exclusivity that will leave you enchanted.